Welcome to Copper Repipe Specialist
Are you having poor water pressure? Are you seeing rusty water coming out of your faucets? Are you having plumbing problems? Then you have come to the right place!
We are the #1 copper repipe specialist in the Los Angeles Area serving your community for the last 24 years. We are a family based company who have been repiping homes, condos and apartment buildings for generations. Because we are a family operated company, we are most passionate in our service.
Why pay a local plumber that will charge you by the hour to do a job that they are not specialized in when you can call us who specialize in repiping homes, condos and apartments for half the cost. We are here to SAVE YOU MONEY!
All it takes is just one phone call and we will schedule a time to come down to your home, condo or apartment complex and give you a FREE ESTIMATE!
If you're ready, simply click here to contact us >>> COPPER REPIPE
Finance Options Available
That is right!! With the downfall of our current economy, we know it could be difficult to cope with the cost of repairing pipes. That is why we are offering finance programs and options. Please ask our representative for details.
<!ol--> --end of leftc
Don't Replace Your Pipes, Rehabilitate Them!!
Free TV camera inspection with any sewer cleaning.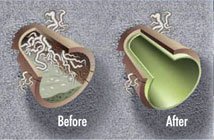 Get Strong Water Pressure Today!